Southeast Alaska
Alaska is true wilderness...

See Southeast Alaska! One-fifth the size of the continental United States, Alaska has the highest coastal mountain range in the world. Over one-half of the world's glaciers cover these mountains and Alaska is one of only three places in the world where tidewater glaciers exist. Wildlife abounds with whales, bears, moose, and eagles. Heavily forested, with over three million lakes, Alaska is a vast, beautiful and truly wild place. Southeast Alaska (the "Panhandle") is the jewel in Alaska's coastal crown. Sail Southeast Alaska and enjoy Its warm climate and abundant wildlife.

Most of Southeast Alaska is part of the Tongass National Forest – the largest National Forest in America – and managed by the US Forest Service. A National Forest, by definition, is managed for mixed-use – recreation, forestry, wildlife and ecological values. Historically, Forest Service management of the "Tongass" has been surrounded by controversy. Large scale forestry and clear-cut logging (visible from miles away) conflict with the wilderness values that bring visitors from around the world.

Bluewater Adventures, Ltd. is an equal opportunity provider and is a permit holder for the Tongass National Forest.


Schedule


June 1 - 7

7 Days

$5350

August 27 - September 3

8 Days

$6275

July 9 - 16

8 Days

$6250

June 20 - 27

8 Days

$6050

August 18 - 26

9 Days

$6375

August 7 - 16

10 Days

$6750

August 28 - September 4

8 Days

$6050

June 3 - 9

7 Days

$5150

July 26 - August 4

10 Days

$6750

July 18 - 24

7 Days

$5350

June 11 - 18

8 Days

$6050

June 29 - July 7

9 Days

$6375

July 5 - 15

11 Days

$8995

July 16 - 26

11 Days

$8995

July 28 - August 7

11 Days

$8995

August 8 - 18

11 Days

$8995

June 21 - July 3

13 Days

$9925

July 5 - 15

11 Days

$9665

July 16 - 26

11 Days

$9665

July 28 - August 7

11 Days

$9665

August 8 - 18

11 Days

$9665

August 5 - 14

10 Days

$6950

July 24 - August 2

10 Days

$6950

July 16 - 22

7 Days

$5550

July 7 - 14

8 Days

$6275

June 18 - 25

8 Days

$6275

June 27 - July 5

9 Days

$6550

June 9 - 16

8 Days

$6275

August 16 - 24

9 Days

$6550

Sorry No results Available

Space Available Call for Availability Booked
Show Embark/Disembark

*All prices are in Canadian dollars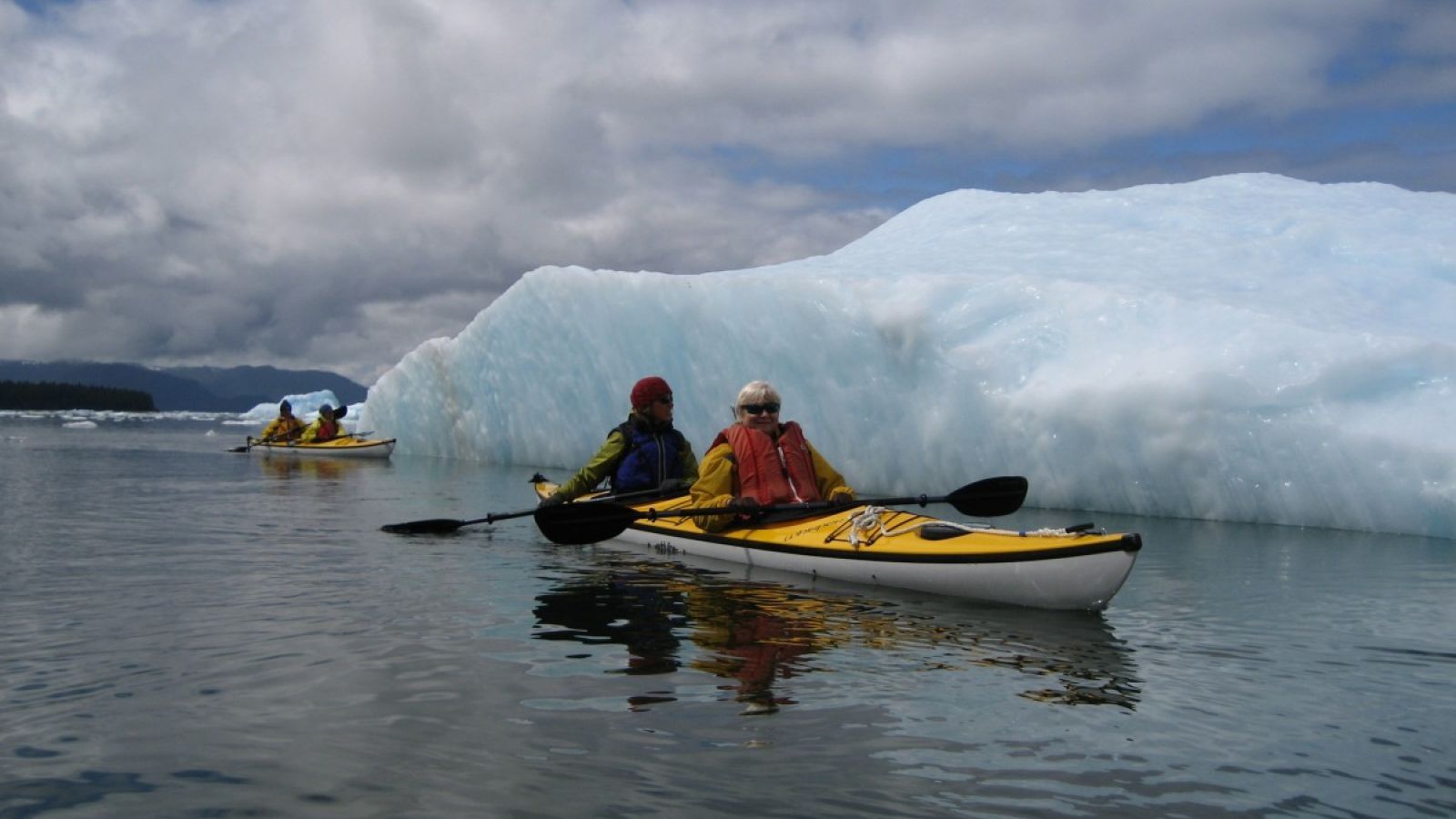 Trip Highlights


Experience the grandeur of ancient tidewater glaciers, skyscraping/ snowcapped mountains and a biodiversity that will take your breath away in Southeast Alaska. By midsummer, grizzly and black bears congregate along the rivers and creeks for the easy salmon fishing and bountiful wild berries. The US Forest Service have set up several bear observatories for research and viewing, as wild bears require space and our respect. An abundance of whales visit this region every year to feed on the coastal rich waters. Watch humpback and killer whales in their natural environment from the comfort of our ships.


Glaciers / Icebergs

A glacier is a vast accumulation of snow and ice slowly flowing downhill from a mountain ice field. Continuously moving, it scrapes the earth, picking up rocks and sediment and slowly forms deep, U-shaped valleys.

Glaciers that advance far enough eventually reach the sea, and are called tidewater glaciers. They break off, or calve, directly into salt water. All glaciers are in a constant state of change caused by increases or decreases in precipitation and temperature.

When the accumulation of snow is greater than the amount lost to melting or calving, the glacier advances. If accumulation is less, the glacier retreats – leaving behind land as raw as the beginning of time. Most of the glaciers we will see stem from the massive Stikine Ice Field, sitting high in the Coast Mountains, east of Petersburg and Wrangell.
Brown/Black Bears

Alaska is one of the few refuges left in North America for the brown (grizzly) bear. On Admiralty Island, it is calculated there is one brown bear for every square mile – almost as many bears as there are eagles. Some of the larger islands in Southeast Alaska have only brown bears – black bears and wolves having been relegated to the mainland by a peculiarity of glaciation.

Every spring bears leave hibernation and feed on the new vegetation growing around waterways. By midsummer, when the salmon start to spawn up the many creeks, the bears congregate for the easy fishing and ripening berries. The US Forest Service has set up several bear observatories for research and viewing. At Anan Creek, we can view both black and brown bears. To see bears fishing for salmon in a rushing river is truly one of the classic Alaska sights. The salmon leap upstream against the current to meet their destiny. The bears stand deep in the water equally intent on theirs. Wild bears require our respect, as many have had little if any contact with humans.
Care is required to be safe around all wild animals. In addition to the impact that trophy hunting has on these magnificent creatures, expanding human development magnifies this impact as their range continues to shrink. The question of whether humans and the magnificent brown bear can co-exist is still to be determined.
Humpback Whales

One of the principal focuses of this trip will be the observation of marine mammals, and specifically humpback whales. The humpbacks winter in the warm waters of Mexico and Hawaii, to mate and calve, feeding rarely.

Every summer they migrate north to feed on herring and tiny krill, that blossom with the sunlight. Up to 100 humpback whales gather to feed in these rich northern waters. Once one of the most abundant whale species worldwide, humpback whale populations suffered tremendously under whaling and are now on the endangered list.

The sight of 45 tons of whale launching itself right out of the water – a behaviour called breaching – is truly an amazing spectacle. The splash can be seen from miles away.
Scientists have learned that humpbacks use various coordinated feeding techniques. One such technique is commonly referred to as "bubble net feeding". A whale circles under the water letting out a stream of rising bubbles. The bubbles act as a solid wall or net to concentrate krill or small fish in the centre. Then entire group of whales explodes up through the centre of the 'net' (and concentration of food) with their 13' mouths open, and surface with a roar. We have observed groups of up to 12 animals bubble-net feeding together.
Totems

The islands of Southeast Alaska are home to three linguistic groups of native people. The Tlingit are the largest group, historically inhabiting most of what is today the "pan-handle".

The Tshimshian lived along the rivers, such as the Skeena - the arteries of trade into the interior mountains. The Haida originated on Haida Gwaii (the Queen Charlotte Islands), but moved north to inhabit the southern "pan-handle" in recent times.

Each group holds in common similar traditions - the carving of totem poles, the great longhouses, and the potlatch ceremony. Some of the old villages are still inhabited. The Tlingit communities of Angoon and Kake, and the Haida village of Kasaan are often along our route.

Other sites have been abandoned for the forest to reclaim. In the larger communities we can see some of the finest totem poles, moved from the old villages for safekeeping. As a magnificent art form, they still captivate the observer. There also are fascinating petroglyph (rock carving) and pictograph (rock painting) sites throughout the area.
---
Map & Location



Southeast Alaska


Trip Brochure

See our 4-page brochure on Haida Gwaii.
Includes: History, Whales, Bears, Wildlife, Native People & Glaciers.

View Brochure
Sample Trip Itinerary
Our daily plans are flexible to accommodate the surprises that occur each trip, the requirements of tide and weather, and the interests of the group. With so many opportunities to see wildlife and scenery, it's hard to predict what unique moment will be your favourite memory.
Day 1- Trip Start

Meet at the top of the dock at Cow Bay Marina - AM. A Bluewater Adventures crew member will meet you and escort you to the vessel. After meeting the crew, cabin assignments, and a safety orientation, we will depart Prince Rupert harbour for the beauty of Chatham Sound and its myriad of islands. The entrance to Portland Canal marks the border between Alaska and British Columbia. Sailing past Misty Fjords National Monument, we enjoy the beautiful scenery of snow-capped mountains rising majestically out of the ocean. Each night we will anchor in a new scenic bay. Guided by our naturalist we will spot and identify fascinating wildlife, explore the shoreline and keep a daily record of the various species of birds, plants and marine mammals we observe.

Days 2 - 10
Cruising up Revillagigedo Channel, past the historic Native American settlement of Saxman, our first major stop will be at Ketchikan. In the late 1800's the lucrative cannery industry earned
Ketchikan the title of "Salmon Capital of the World". We will have time to walk along the old boardwalk "streets" and the ambitious may proceed further to the Totem Heritage Center to see original totem poles collected from now uninhabited Tlingit and Haida Villages.
We continue north among the narrow passages of Etolin and Wrangell Islands to Anan Bay. Anan Creek has the largest run of pink salmon in Southeast Alaska, and this accumulation of food attracts bears, eagles and seals. The US Forest Service bear viewing observatory is famous and we are very fortunate to have the opportunity to watch black and brown (grizzly) bears fishing for salmon in the rushing river – a classic Alaska experience! Access to this area is strictly limited in order to protect the wildlife and local habitat.
We will disembark our vessel for a day tour on a boat escorted by a local guide up to the Le Conte Glacier – the southernmost tidewater glacier in Alaska. In the last 15 years, it has receded by over a mile and a half with enormous slabs of ice "calving" into the ocean. It is located beside the Stikine River estuary – an important stop for millions of migratory birds.
Frederick Sound and Chatham Strait is the core feeding area for humpback whales in Southeast Alaska. Journeying through this area, we will see whales on a daily basis. Our onboard naturalist will identify and explain the fascinating feeding techniques of these giant cetaceans. We just hope to have our cameras pointing in the right direction when a whale breaches out of the water.
Admiralty Island National Monument has the highest concentration of brown bears and eagles in North America and has some beautiful evening anchorages – keep an eye out for brown bears on the shoreline! We are excited to include a visit to Pack Creek, an amazing bear watching opportunity located in a tidewater estuary up Seymour Canal. Pack Creek has been a protected area for bears for the last 40 years, and we are luckily to be among the 24 people a day that allowed to visit.


Day 11 – Trip Finish

On the last morning, we sail into Petersburg, Alaska to complete our voyage. Petersburg, known as "little Norway", is a delightful town to explore. After clearing customs, passengers catch the late afternoon flight to Seattle to continue their journey home.



Southeast Alaska


Sample Trip Itinerary

Download your 3-page Trip Itinerary on Southeast Alaska.
Includes: daily activities, travel details, accommodations & contact details.

View Itinerary
Sustainability Fee
To support conservation efforts on the west coast, a $100
Sustainability Fee
will be applied to rates at time of booking. Dates and prices are subject to change. Some departures may be reserved for groups. If you are interested in chartering a date for your group, special pricing is available.
Gallery