Onboard the Vessels
Comfort

Featuring 8 private cabins, 3 heads with showers, large salon and lounge areas, extensive reading libraries, galley, - These vessels are perfect for our adventures. Guests continually comment on how the vessel was more than suitable for their needs. To add to the comfort, gourmet food is served, complimentary wine each day and a wilderness setting all give a great ambience to these special voyages.

Style

Built in the early 1980s, these vessels were beautifully designed and go through annual maintenance upgrades and more recently some major renovations. The style of our vessels reflects in the style of our trips - Unique. These are educational trips, with a focus on learning and having fun. Small group size allows for an interactive style and allows guest to experience places that larger groups can not get to.



Space


All our yachts have large inflatable boats for shore excursions, and stable sea kayaks for exploring protected bays and along the shore. Each day is full - walks ashore, voyaging island to island, then anchoring each night in a new, secluded bay. Each day we are off the boat more than once. Even though these are small ships, it is never a problem finding your own space to rest, read or reflect your thoughts in a journal.



General Information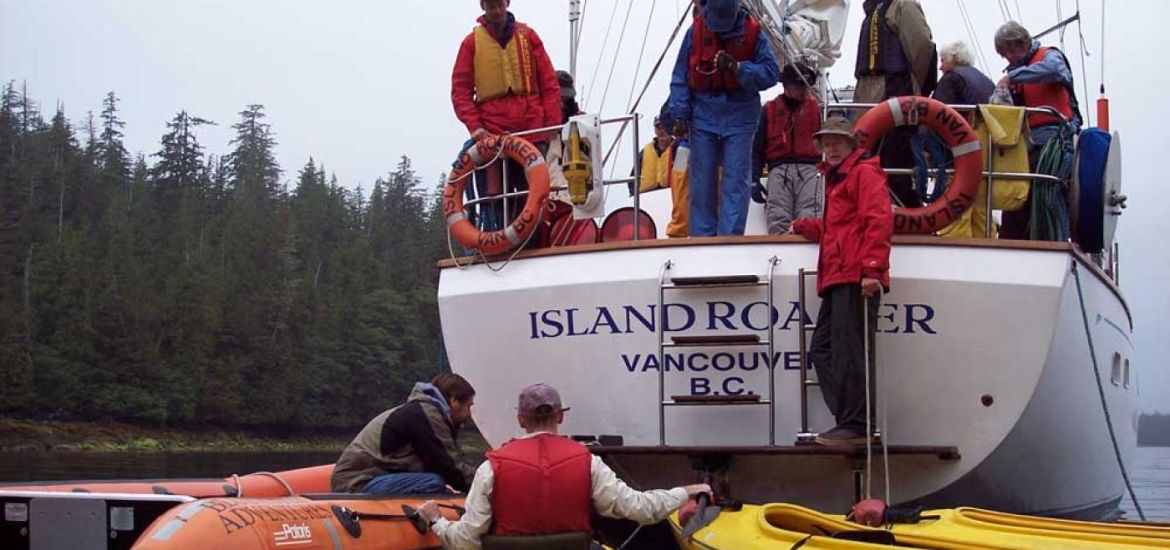 Physical Capabilities

People of any age and most physical capabilities are eligible for our trips. Just bring your curiosity and a sense of adventure. Our yachts are spacious and comfortable and afford easy access to almost everyone. At most of our stops we will use our inflatable zodiac boats to transfer participants to the beach and depending on the trip, explore along simple trails. We may stop at a small coastal village and simply step from the boat onto a dock.

You will have to climb up and down this ladder on both the Roamer and Odyssey, onto the swim grid and into the zodiacs. You will also need to step in and out of zodiacs easily and walk on unsteady ground.



Weather

While guests should come prepared for some gusty winds and the possibility of rain, we usually experience clear skies and a good amount of sunshine. It always feels cooler on the water than the actual temperature.

Please refer to our What to Bring Page for specific items that will make your trip more comfortable.



Non-Smoking

There is no smoking allowed onboard the boats.

Meals

A professional cook is in charge of all the cooking during the trip. We carry ample quantities of fresh vegetables, fruits, meats, grains and dairy products for the duration of the voyage. Meals are served buffet style. We are confident that you will be very impressed with the variety and excellence of the meals that are prepared for you. Complimentary wines are served with dinner. There is no bar onboard to purchase additional drinks. Guests are responsible and welcome to bring their own cocktail, beer and soft drinks.



Whats Included

All meals from lunch on the first day to breakfast on the last day; all accommodation onboard ship; skipper, cook, naturalist; full use of all onboard facilities, including kayaks.



Not Included

Transportation to the start point and from the finish point of the trip; any accommodation or meals prior to the start of the trip or after the completion; travel or cancellation insurance; airport transfers. The only money participants require during the trip is for optional purchases and gratuities for the crew.